Costa Mesa, California, Linen Rental and Laundry Service Company
Linen Rental Services in Costa Mesa
Costa Mesa's economic profile includes industries like accommodation and food services, manufacturing, retail trade and professional services. Businesses in these industries need a professional linen services company to meet their commercial linen requirements. This is where Alsco comes in. 
With nearly 135 years of linen rental and laundry service experience, Alsco is your one-stop linen service company that covers all of your linen needs. We are the leading linen rental service company in Costa Mesa. 
Alsco's success comes from understanding our customers' needs and exceeding their expectations. Our nationwide success is built on a commitment to customer satisfaction and dedication to loyalty and trust. Our experience sets the standard.
We can help promote your image and hygiene in the workplace with our extensive line of linens that are durable and stylish.
Get a quote today.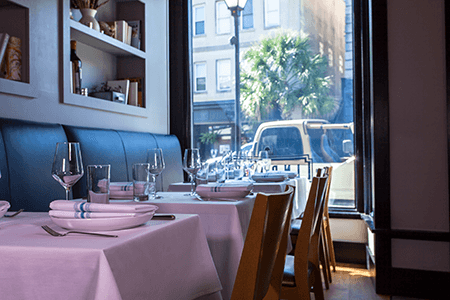 Alsco Linen Options in Costa Mesa
The weight a great first impression holds when you are in the healthcare, hospitality and restaurant industries is no secret. Clean linens are integral in making your overall professional image shine, helping you, your team and your business be at your best.
That's why Alsco offers an extensive selection of specialty linen options and, for hospitality, various colors. Our catalog includes everything from sleek hospitality table linens and hygienically clean medical towels to auto-shop towels.
Alsco also makes provisioning and cleaning linens a snap. With our leading laundering system, we clean linens effectively with little chemical waste and water usage. Regardless of what linen options are best for your business, Alsco's linen rental services include these benefits:
Laundry service and hygienic linens.

Reasonable, budget-friendly and predictable rates.

Safety and convenience.

Fresh linens delivered on time.

Environmentally sustainable practices.

Quick and easy dirty linens pickup.
No matter your industry— restaurants, industrial, automotive, hospitality or healthcare — Alsco has your linen rental services covered.
Zip Codes We Service
92626, 92627, 92628, 92646, 92707
Contact Alsco for All Your Linen Needs
Services We Provide
Restaurant Linens
Alsco's high-quality, non-linting restaurant linens also come with NSF International's mark, certifying that our table linens are hygienically clean and safe for your customers. Additionally, our linens provide color consistency and stain-resistant fabrics that ensure your tables look their best. Available in a variety of colors, our table linens feature a soft, smooth feel that is sure to create a lasting positive first impression with customers.
Whether you need linens for a restaurant, bar, café, diner, coffee shop, deli or another eatery in Costa Mesa, Alsco's restaurant linen selection will leave customers thinking highly of your food, service and ambience.
Alsco offers the following restaurant linen products:
Tablecloths.
Place mats.
Napkins.
Kitchen towels.
Uniforms and aprons.
Healthcare Linens
When you do business with Alsco, your Costa Mesa healthcare facility will receive hygienically clean, high-quality linens with every delivery, saving your facility money while enhancing its professional reputation. Top-quality linens offer comfort, durability and value that enhance the patient's overall experience and improve your facility's image.
Partnering with Alsco for your healthcare linen needs means patients, staff and visitors are protected from contaminants. With Alsco, our three-tier processing system meets all safety guidelines established by the Centers for Disease Control and Prevention, Occupational Safety and Health Administration and The Joint Commission.
Our laundry process ensures garments and linens used in hospitals, medical clinics, dental offices, medical testing facilities, veterinary clinics, physical therapy clinics and more meet strict healthcare standards that require the removal of all contaminants.
Alsco offers the following healthcare linen products:
Operating room towels.
Surgical drapes and wrappers.
Thermal and bath blankets.
Washcloths and towels.
Pillowcases, sheets and bedding.
Hospitality Linens
From Costa Mesa's mechanic and auto shops to construction and industrial manufacturing, Alsco offers industrial linens and laundering services that take the hassle, mess and wear and tear out of buying, washing and replacing linens.
Alsco's linen laundering service uses custom NPE-free formulas scientifically tailored for each specific type of fabric and laundering needs while keeping chemicals out of downstream waterways with our environmentally sustainable practices. Our custom formulas allow us to get even the most stubborn stains out, which is important when oil, grease or other hard-to-remove products are regularly absorbed into linens. Alsco's services save both time and money because linens last longer and won't need to be replaced.
Alsco offers the following industrial linen products:
Shop towels.
Microfiber bar mops.
Uniforms.
Protective equipment.
Automotive towels.
Industrial Linens
Whatever the reason for travel, guests want to be met with cleanliness and comfort. At the end of a long day, this means a polished bed with fresh sheets and bedding along with plush towels and washcloths that are untouched and stain free. Alsco offers a variety of high-quality hospitality linen selections that invite a sense of luxury and style to the room and ensure your guests are comfortable and well rested.
Selecting Alsco's hospitality linen rental and laundry service ensures that your Costa Mesa facility — whether it is a hotel, resort, motel, lodge, bed-and-breakfast, Airbnb or Vrbo — will have crisp, freshly laundered and hygienically clean linens that meet your standards and are delivered on time.
Alsco offers the following hospitality linen products:
Bedding, sheets and pillowcases.
Towels and bath linens.
Uniforms.
Kitchen towels.
More about Costa Mesa
Named for the coastal tableland that was used to graze cattle in the early 19th century, Costa Mesa evolved from a farming and agricultural community to the "City of Arts" it is known as today.
Costa Mesa was incorporated as a city in 1953. Located roughly 40 miles southeast of Los Angeles and 13 miles from Anaheim, it is close to the amenities these cities offer while maintaining its distinction with the city's focus on the arts. 
South Coast Plaza is not only the largest center for commercial activity in Costa Mesa but also the largest shopping mall in California and the fourth largest in the U.S. The 275 boutiques and restaurants generate record annual sales exceeding $2 billion. 
In addition to the beautiful SoCal landscape and convenient access to Newport Beach, Huntington Beach and others; renowned restaurants; a huge retail center; and the world-class Segerstrom Center for the Arts and South Coast Repertory Theater, Costa Mesa is also the capital of the action sports industry. 
Costa Mesa has evolved from its semirural farming roots to the eclectic SoCal vibe it has today. The bustling city and its growing economy invite more than 46 million visitors each year. Costa Mesa's top attractions and sites include the following:
Whatever brings your business to Costa Mesa, whether it's the city's economic profile and location or the California vibe and beautiful beaches, Alsco has your company's linen services needs covered.
Contact Us
Interested in Alsco's Services? Visit our Contact page and let us know!